Is Private Travel Becoming the "New Normal"?
To hear about the pandemic's impact on the private jet sector, we caught up with Mark Briffa, the CEO of Air Partner – the industry leader in providing aircraft charter services and aviation safety & security solutions.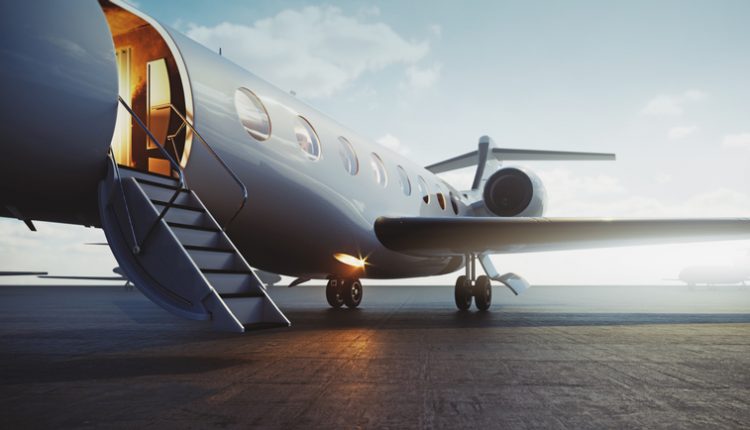 As lockdown travel restrictions began to ease, you've seen a 321% increase in European private jet enquiries in June compared to the same month last year. How are you managing this increased interest in private travel?
Before the pandemic crisis hit, global private travel had been steadily growing. In our last financial year, we recorded a strong year in our private jet division with growth of 12.5%. Then during lockdown and at the peak of the pandemic, travel in any form, including by private jet, dropped off as restrictions and safety concerns prevented flight demand. Since May, however, when restrictions in Europe began to ease, demand for private jet travel has boomed as people regain their appetite for travel in the safest way possible.
Whilst the demand has been primarily from leisure travellers and critical business flights, a significant proportion of enquiries have been from people who are new to private travel – in the name of safety, convenience and flexibility, flyers are trading up.
This is a trend we expect to continue, and we are well placed to manage and gain from it. We have been industry leaders for 60 years and have unrivalled expertise and experience in the sector. We are also at a huge advantage as we do not own our own aircraft, instead we charter them from a variety of trusted partners, meaning we are never limited on supply or held back by schedules. This was particularly important during the early stages of the outbreak, as our services became indispensable for many of our clients. Our teams worked around the clock to navigate global lockdown and country-specific entry requirements imposed in the initial stages, responding quickly to deliver reliable flights to evacuate individuals across the globe. Some of our clients were in the air in a matter of hours from placing their enquiry as we worked hand-in-hand with our Air Evacuation and Group Charter teams to get people home. I should add that the world leaders and industry advisers in aviation safety, Baines Simmons are part of the Air Partner Group, meaning no one is better placed than us to operate in the current environment.
What do you think the future holds for private travel in a post-COVID-19 world?
The future of private travel will continue to grow in popularity and demand in a post-COVID-19 world. We can already see evidence of this as people have been confined to their homes over the last few months, and are eager to travel, regardless of if it's for leisure or business. We are seeing more interest in leisure-related bookings due to the summer holidays with clients keen to spend time with friends and family abroad. The added reality that a lot of clients can work from their holiday homes, means that customers are travelling abroad with the ability to go for longer and work for part of their trip.
Private travel is being seen as more of a necessity than a luxury due to its quality safety provisions.  Air Partner clients, for example, can request further specific safety measures from staff, thanks to the newly launched Air Partner Protect, which they could not do on a commercial flight. You have the ability to travel swiftly and seamlessly through a private airport, minimising contact with others, avoiding security queues, shops and other facilities that you would encounter at a commercial airport, regardless of which class you are flying. Furthermore, you will not have to wear a facemask for the flight and can sit back and enjoy that holiday feeling again, all of which, makes the safety of private travel an enticing commodity. Flexibility will also be valuable as you can plan a holiday or business trip that is not confined by commercial flight times or unexpected travel restrictions introduced. By flying private, you have the flexibility to cancel or change your flight at the last minute with no financial penalty in these uncertain times.
The future of private travel will continue to grow in popularity and demand in a post-COVID-19 world.
In terms of business travel, those flying for business will likely need higher safety requirements, and we'd predict that those who would regularly fly business on commercial flights would travel less but would be more likely to upgrade to a private jet in order to ensure safer travel. We may see corporates coming together to share private charter with common travel requirements and policies, making it a more affordable way to travel.
Overall, for those who have the means, private travel is an easy decision and not one limited to leisure –although many businesses are now cuttings costs post-COVID-19, including travel budgets, when they do require travel, we are seeing that they want it to be in utmost safety. This applies to employees across the board, from flying the C-suite to meetings to transporting crews of oil workers. We now even offer bespoke carbon offsetting contracts to businesses concerned about their impact on the environment when using private travel, meaning their sustainability strategies can remain intact despite the changing nature of their travel.
I would also add for further context that Air Partner has a cargo division which is well placed to benefit as we emerge from the pandemic. As businesses begin to run their full operations again, they want to reignite their supply chains as quickly as possible, which freight flights can help with. For example, a car manufacturer that has recently been allowed to reopen a factory will want to access parts immediately so they can commence production – flying these parts from another continent may cost more than shipping but will be significantly faster.
What would this increase in private travel mean for commercial airlines?
With safety at the forefront of every traveller's mind, the number of passengers who choose to fly with commercial airlines will drop. The combination of pent-up demand, security inadequacies and uncertainties of scheduled commercial services will be more of a reason for people to travel privately. Airports are not made for social distancing, no matter how much we try to minimise situations where large groups of people come together, it is almost impossible.
Commercial airlines are currently operating reduced routes, some which might not return for a long time, making it difficult for travellers to reach cities directly. Governments across the world are also constantly modifying travel guidance on where and when people can travel to, increasing the appeal of flying privately for ease.
We have started to see more enquiries from companies looking to charter their employees for business as an alternative for business or first-class on commercial flights, due to the enhanced safeguarding measures chartered aircraft can offer, which could lead to a reduction in the booking of business and first-class travel on commercial flights.
How do you plan to respond to the constant increased demand your industry is likely to see?
We very much welcome the increased demand our industry is going to continue to see. We are getting more demand for our JetCard programme due to its flexibility and we are even exploring how to further enhance the experience of flying with us to attract even more business. This summer we launched a unique new partnership with Quintessentially Luxury Lifestyle Managers for example, which gives our top clients complimentary membership to its concierge services. This is just the start of initiatives we are planning to ensure that Air Partner continues to be the partner of choice for private flyers.