Yogesh Gupta & his Ever-Growing Love for Technology
"Long before I became Yogesh Gupta, President and Chief Executive Officer of Progress, I was Yogesh Gupta, Computer Science graduate, author and inventor", says Yogesh to me. He goes on to explain to me how over the years, his passion for technology has only grown stronger. "And if my leadership roles at CA and CEO roles at FatWire, Kaseya, and now Progress have taught me anything, it's that technology has a crucial role to play in finding solutions to our most urgent challenges."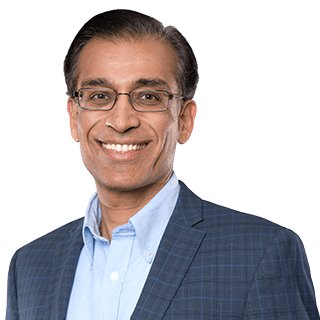 Below, we speak with Yogesh about technology's potential to make our world better, smarter and simpler, Progress' response to COVID-19 and diversity and inclusion in the tech world. 
In your opinion, how will AI change the world we live in?
AI can help with complex problems as well as with simple day-to-day activities. Let's take a simple scenario – you have a meeting with Mr Smith whose office is about a half-hour drive away. You leave your office about 45 minutes early to be on time, walk over to your car, and the car automatically "recognises" you, unlocks and starts. When you get in, the car asks: "Are you on your way to your meeting with Mr Smith? There is little traffic and we should be well in time".  You respond in the affirmative and the car starts driving you there. A few minutes into the drive you say: "Where can I get a cup of tea?" and the car responds: "There's a tea shop which would only be a few-minutes detour – we'd still get to Mr Smith's office in time for the meeting. However, if you'd rather go to TeaStar [which happens to be your favourite], it'll take a bit longer and you'll be a few minutes late for the meeting. What would you prefer?". You respond: "Let's go to TeaStar and I'll take my usual".  The car places an order for your usual to TeaStar to be ready at you anticipated arrival time, pays for it automatically, drives you to TeaHeaven where you pick it up at the pick-up window and continues on the journey to Mr Smith. Oh, and it notifies Mr Smith that you're running a few minutes behind.
Interestingly, every single piece of technology to enable the above example exists today. In fact, all the technology for a car that could give you driving instructions and do the rest of the scenario has existed for well over a decade. However, a car that can deliver such an experience still doesn't exist!  By the way, people have been taking such scenarios for granted for decades when they've had a human assisting them.
Even though AI is important in this example, making this a reality requires many different technologies to seamlessly work together and be available at scale. These technologies include security, data integration, service integration, business rules, engaging user experiences as well as AI. Building, deploying and managing such sophisticated and large-scale, impactful systems isn't easy, which is why we, at Progress, are focused on providing the best products to help businesses address this.
Tell us a bit about what Progress has been up to lately. How has the pandemic affected the company and how have you reacted to the challenges COVID-19 has presented you with?
Our first priority has been, and always will be, the safety and health of our employees and their families, so we have all been working from home since March. Being a global company, many of our employees were already used to working in a virtual team environment, but that isn't the same as WFH all the time. As part of our contingency planning, we had an extensive technology infrastructure in place to ensure seamless and secure remote work, along with communication and collaboration, which enabled us to quickly transition to a work-from-home model and continue our operations without missing a beat.
We continue to deliver on our product roadmaps, support our customers globally 24/7, deliver professional services projects on time, and continue to engage both new and existing customers for sales and customer relationship management. Our people have worked hard so that our customers and partners have seen no impact on our deliverables to them.
We've instituted frequent and transparent communications, so employees always know what to expect, and more importantly, why we're making the decisions we are. We also recognise the need to help our employees at a time like this and to support them, we've deployed technology stipends, wellness initiatives and morale boosters, such as virtual events and extra company-wide days off.
In addition to providing ongoing support to our employees, customers and partners, we've also focused on supporting local communities in locations where we have a larger presence. We all owe a great deal of gratitude to those working on the frontlines of COVID-19, so we mobilised employees to identify charitable organisations needing help and donated $100,000 across a handful of worthy organisations.
Together, these initiatives help to ensure our employees have the tools needed to live balanced, healthy lives while working from home and still meet all our business goals. I'm unbelievably proud of the entire Progress team, at all levels and in all countries – they have pulled together and supported each other, our customers and our communities.
You're currently in the process of recruiting for a Chief Diversity Officer. Tell us about any initiatives you've taken up to support diversity in the workplace. What more needs to be done?
We're in a unique moment in history. And like many in corporate leadership, we're using this moment as a catalyst for deeper self-reflection and meaningful change. At Progress, we have a long history of being inclusive and diverse. For example, nearly forty years ago our first employee and the first engineering leader was a woman – Mary Székely.
Sadly, the tech industry has not been a welcoming place for people of diverse backgrounds which, in addition to black and underrepresented minorities, also includes women and members of the LGBTQ+ community.
As a global organisation with offices on multiple continents, we've worked hard to cultivate a corporate culture that is, frankly, unique in the tech industry. People who work at Progress are as passionate about who they work with as they are about what they do. That's rare, and it's a huge part of why Progress has stood the test of time. And while we live our values of mutual respect and tolerance and have sought to elevate and celebrate voices from across our diverse employee community, we recognise that we must do more.
In addition to our search for a Chief Diversity Officer, we have begun to create safe spaces in our company to facilitate open and transparent conversations, so that we can learn from each other.  We've committed to engaging with educational institutions that have a large percentage of students who are black and other underrepresented minorities, to provide mentoring and career opportunities to those students. We have donated $100,000 to organisations that fight racism and social injustice. We have created ERGs for BIPoC and for LGBTQ+ employees, in addition to the ones we already have for women. And we're using our voice in the community to influence other tech companies and government organisations to join us in addressing this critical social issue.
What can be done to ensure equality of opportunity in the tech world? 
Sadly, the tech industry has not been a welcoming place for people of diverse backgrounds which, in addition to black and underrepresented minorities, also includes women and members of the LGBTQ+ community. But we must change this, starting with how we approach recruiting. We need to do better outreach at colleges and training programs to put the many careers in IT and software development on the radar for diverse students. Once hired, we can ensure their success by programs such as mentorships to help them in the business world. We must monitor our promotion practices to fix the broken rung problem, which prevents diverse employees from rising in an organisation.
Progress already supports programs like Black Girls Who Code, a vital organisation that is opening the tech doors to people for whom this sector is unknown. We can further support vocational tech programs, so qualified candidates can find work while removing the four-year college barrier.
At Progress, our I&D efforts are rooted in a simple principle—everyone is entitled to equal opportunity, an inclusive and inviting environment, which includes dignified and equal treatment no matter the colour of their skin, their gender, who they love, or who (or whether) they pray. A diverse workforce adds exponential richness to our pool of skills, talent and experiences—plus, it's simply the right thing to do.
What are your goals for the future of Progress?  
First and foremost, my goal for Progress is to stay true to our spirit, stay agile and not to be afraid to take risks. Agility empowers companies to take the bold steps needed to pursue smart growth. This is true especially when it comes to acquisitions, something that's a big part of our growth strategy. Our goal is to double the size of Progress in 5 years through accretive acquisitions.
Another critically important goal, as we've been discussing, is Corporate Social Responsibility. The addition of the new Chief Diversity Officer will take us even further, as will our increased focus on corporate giving that aligns to our CSR goals. Over the past few years, Progress has already made strides in creating a more inclusive Board of Directors as well as leadership team, especially when it comes to the inclusion of more women. But as with everything, we are always striving for better.