The Four Black Fortune 500 CEOs
As the world's largest companies pledge to tackle prejudice in the workplace, the number of ethnic minority CEOs leading these companies continues to shrink.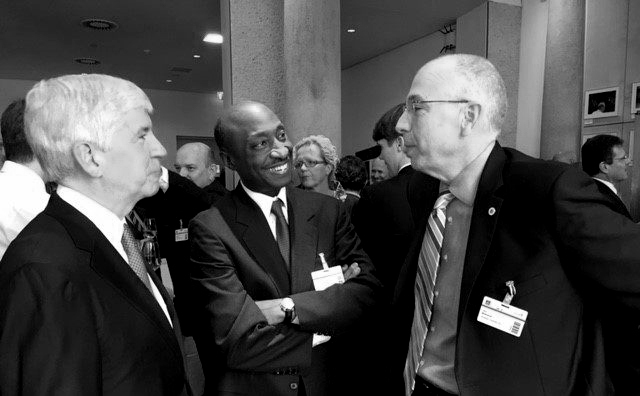 Citing personal reasons, Jide Zeitlin stepped down as chairman and CEO of fashion company Tapestry Inc. last Tuesday, having remained in the chief executive position for less than a year. With his resignation, there are now only four black CEOs among the Fortune 500.
A total of 18 black CEOs have featured in the Fortune 500 since 1999 – peaking at a concurrent six in 2012. Also notable is that all four remaining CEOs are male; following the departure of Ursula Burns from Xerox in 2017 and Mary Winston from Bed Bath & Beyond in 2019, there are no black women serving as Fortune 500 CEOs.
The lack of black representation in business leadership is an increasingly visible issue, and one which is not restricted to America; only one CEO out of the FTSE 100 is black, and none feature in Canada's S&P/TSX 60. Though the corporate world has largely committed to combating racial inequity following the recent high-profile killings of George Floyd, Ahmaud Arbery and Breonna Taylor have called attention to continued racial inequity in the US, it remains to be seen whether or not this will be reflected by lasting change to boardrooms.
Below, we look at the four black Fortune 500 CEOS, their careers and the companies they lead.
Following the departure of Ursula Burns from Xerox in 2017 and Mary Winston from Bed Bath & Beyond in 2019, there are no black women serving as Fortune 500 CEOs.
René Jones – M&T Bank
When he was appointed chief executive of M&T in 2017 following the death of longtime CEO Robert Wilmers, René Jones had worked at the bank for 26 years, having joined when he was 27 and risen to become CFO. In his first statement as CEO, Jones declared that the former company head's "legacy will live on".
So far, Jones seems to have lived up to that promise. M&T's record of having turned a profit in every quarter since 1976 remains unbroken. The company also holds over $139 billion in assets and employs more than 17,000 people, with plans to add another 1,000 tech jobs by 2024. Jones also has ambitious plans to improve the city of Baltimore, explaining in his 2019 annual address to shareholders that M&T will lead in reshaping the city's national image and investing in local businesses and real estate to attract greater outside interest.
"Our mission is not to throw stones or lay blame — just the opposite: this is our community and we share in its challenges and successes alike," he said.
Roger Ferguson – TIAA
Ferguson had a storied history even before his appointment as head of the Teachers Insurance and Annuity Association of America in 2008. Bearing three degrees from Harvard and decades of experience in non-profits and the private and public sectors, he has been roundly praised for his financial acumen and has received more than 30 awards for his success in corporate leadership.
"Our mission is not to throw stones or lay blame — just the opposite: this is our community and we share in its challenges and successes alike."
As chief executive of TIAA, a major financial services company that holds over $1 trillion worth of assets, Ferguson has been in his element. TIAA has featured in DiversityInc's Top 50 list for the past eight years under his leadership, ranking at number 9 in 2020.
"Speaking for myself as a board member, it is really important that the culture at the company be open, inclusive, broadly diverse, particularly if you're interfacing with the public at large. Having a population that understands that and is empathetic to all the changes in society is really important," he said.
Public responsibility is not new to Ferguson, who in addition to his other accolades led the Federal Reserve's response to the September 11 terrorist attacks in 2001, for which he is credited with having steered the US away from a financial meltdown.
Marvin Ellison – Lowe's
Though he now helms the largest company on this list, ranking 44th on the Fortune 500, Ellison began his retail career as a side job to pay his way through college. After working gigs as a truck driver and store clerk, he eventually landed a $4.35 per hour part-time job as a Target store security guard in Memphis, and from there began his rise to the highest levels of the retail industry. His career path led him to become an executive at Home Depot, then the chief executive of JCPenney, and finally both an independent director of FedEx and CEO of Lowe's.
Like Ferguson, Ellison has been outspoken on the need for greater ethnic minority representation, arguing that CEOs ought to "talk less and do more" to resolve the disparity. Following the killing of George Floyd and ensuing nationwide protests, his urging has become more frequent.
"I have a personal understanding of the fear and frustration that many of you are feeling," he wrote in a message to Lowe's employees. "To overcome the challenges that we all face, we must use our voice and demand that ignorance and racism must come to an end."
Kenneth Frazier – Merck
Ken Frazier is an accomplished attorney who began his career at Philadelphia-based law firm Drinker Biddle & Reath. His earliest claim to fame was his defence of James Willie "Bo" Cochran, who spent 19 years on death row before Frazier and two colleagues proved his innocence in a retrial. Frazier also took multiple summer sabbaticals to teach trial advocacy to black law students in South Africa.
Frazier's legal prowess served him well when he became general counsel of Merck in 1992 – a time when the company was beset with claims that its anti-inflammatory drug Vioxx caused lethal side effects. Though Merck's liability was estimated to be as great as $50 billion by some analysts, Frazier's legal strategy defeated most claims in court and settled the remainder for only $4.85 billion, an achievement that helped elevate him to CEO in 2010.
Frazier has candidly summed up the need for more meaningful action from business leaders to address racial inequality, noting that the "huge opportunity gaps" he experienced in his youth are still faced by young black people.
"It is the responsibility of corporate America to bridge those gaps," he said. "Joblessness leads to hopelessness. Hopelessness leads to what we see in the streets."