Technology's Role in Building a Better Planet
To hear about how technology is making the world better, we caught up with Ron Nersesian, the Chairman and CEO of Keysight Technologies - - a leading technology company that helps enterprises, service providers, and governments accelerate innovation to connect and secure the world. Keysight's solutions optimise networks and bring electronic products to market faster and at a lower cost with offerings from design simulation, to prototype validation, to manufacturing test, to optimisation in networks and cloud environments.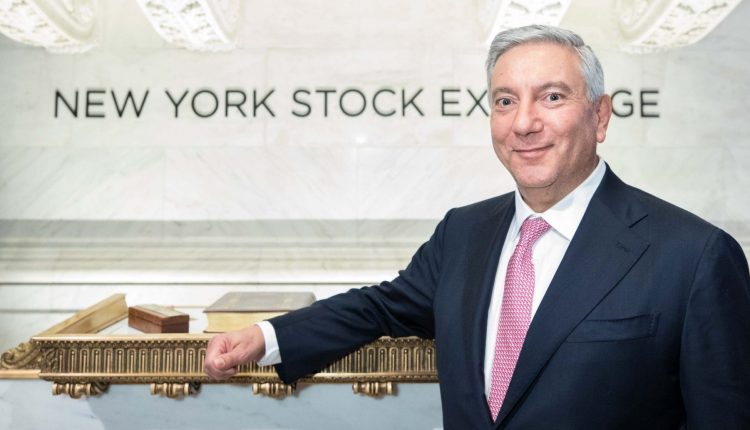 In August last year, we spoke about Keysight's Leadership Model and how it articulates and codifies the company's operational practices. In the past year, has anything changed in that model?
There hasn't been any change to the Keysight Leadership Model. When we launched it last year, we trained over 11,000 employees on the model to ensure they have a solid understanding of it and can apply it in their roles. The Keysight Leadership Model is a key differentiator for us, as well as a key enabler of our mission to accelerate innovation to connect and secure the world. If anything, the model has solidified Keysight's ability to be resilient even in times of crisis as we've seen this year.
Can you tell us about Keysight's approach to managing through COVID-19?
The COVID-19 pandemic has created a level of business and societal disruption that far surpasses anything I have seen in my 38-year career. It is testing the strength and adaptability of many companies and leaders.
At Keysight, three priorities have guided our response to COVID-19. First and foremost, we must keep employees safe and healthy. Second is ensuring the company remains strong to provide for employees and customers over the long term. And third is supporting our communities and helping to fight the spread of the pandemic.
Keysight has recent experience managing large-scale crises. Our headquarters and many employees were impacted by the fires that spread through Sonoma and Napa counties in California in 2017. While that was a challenging and horrific time, it affirmed that we had an effective crisis management approach and the first-hand experience we gained proved to be invaluable this year.
For COVID-19, we set up a global crisis management team as well as local crisis management teams for each of our 129 sites globally. The local teams worked with our global team to determine and drive our response. Having both a global team, as well as local teams, enabled us to quickly make top-down decisions while monitoring the external situation and local requirements for each site to ensure that any needed steps were taken locally.
What are some of the specific actions you took in response to COVID-19?
As a global company with many employees and offices in China, we began monitoring the coronavirus in January 2020 before it was even named COVID-19. Our initial efforts were focused on China and we quickly closed offices there and had employees work from home. We also stopped all travel to, from, through, and within China. We are grateful none of our employees in China became ill.
In early March 2020, as COVID-19 spread across the globe, we took quick actions ahead of government regulations and requirements. We halted all travel domestically and internationally. We also asked employees who could work from home to do so. This made our offices safer for those who had to work on-site.
Later in March, we closed many locations temporarily, including our Santa Rosa headquarters. During the closure, every employee and contractor continued to be paid whether or not they could work at home. Although we preserved full pay for employees, senior vice presidents took a 50% temporary salary reduction and I took a 100% reduction to keep the company strong and protect jobs.
As the world's largest electronic test and measurement company, we enable essential work, so we ramped up our production capability after a few weeks to support critical infrastructure. The closure of our sites gave us time to determine the best way to maintain the safety of our critical employees on site. We have strict safety, health, and sanitation protocols in place, including physical distancing, temperature checks, face coverings, protective equipment, and enhanced cleaning. With manufacturing running, we could meet customer needs, including for medical equipment providers and government agencies.Within several weeks, we re-opened facilities and ramped operations.
We still have many employees working from home and have taken steps to support their productivity and engagement. We have communicated regularly, enhanced our IT offerings to meet needs, provided collaboration tools, reminded employees of available company benefits, and provided flexibility where possible. We just completed a short survey of our employees in which 91% said they have what they need to be productive in their roles and 92% would recommend Keysight as an employer.
Supporting the community has been important too. We've donated personal protective equipment, made contributions to local nonprofits through the Keysight Foundation, and matched employee donations. We have also focused on supporting our medical equipment customers to ensure they have the solutions they need to deliver supplies like ventilators.
Personally, I couldn't be prouder of the Keysight team. We have a committed, dedicated, and resilient workforce. Our employees have risen to the occasion and are finding innovative ways to be successful. I am confident Keysight will emerge even stronger when this is over.
Shifting gears, what role does corporate social responsibility (CSR) play in Keysight's strategy?
Keysight has a proud history and track record in terms of environmental sustainability, positive social impact, and ethical governance. It is an important part of our culture and how we do business. For this reason, CSR is part of our Keysight Leadership Model and permeates everything we do.
Our CSR program centres around six pillars: ethical governance, responsible sourcing, the environment, our people, communities, and of course our solutions. For each pillar, we have supporting policies, programs, action plans, and accountability to ensure our efforts are aligned across and deep within the company. Our CSR vision is to help build a better planet.
We have a set of key performance indicators that we track, as well as a set of key impact goals focused on strengthening global communities, supporting educational development, and improving the environment. In addition, we also track ratings and rankings of multiple environmental, social, and governance (ESG) organisations to enable continuous improvement and assess progress while identifying opportunity gaps. We have received multiple awards and recognitions across the industry and investment community for our CSR efforts.
As our first-ever CSR key impact goals end this year, we are now working on a set of new, impactful key impact goals to take us into the future, including a roadmap towards carbon neutrality and potentially a goal directly aligned to our technologies and solutions.
More so than ever before, technology is showing great promise in providing breakthroughs that will help build a better planet.
What role does technology play in helping build a better planet?
More so than ever before, technology is showing great promise in providing breakthroughs that will help build a better planet. Faster, more reliable communications and connected infrastructures are helping support critical human services and improve crisis management, while keeping people engaged through remote work and learning from home.
The utilisation of accelerated and advanced testing technologies, artificial intelligence, virtual and augmented reality, automation, and the Internet of Things (IoT) are speeding delivery of life-saving medical equipment and new health treatments. On the environmental front, disruptive innovations in automotive electro-mobility, renewable energy, and connected wireless sensor technology are helping to reduce global reliance on carbon-heavy fuels and improving natural resource management. So, it's an exciting time to be in the technology industry and delivering solutions that help address the challenges engineering communities are facing in these areas.
What are some of the challenges in technology helping to build a better planet, and how do Keysight solutions help address those challenges? 
World-changing technological opportunities bring challenges. Increased electro-mobility requires efficient battery utilisation and longevity and could stretch ageing electric grids to capacity. Quality, interoperability, and high performance are critical in delivering next-generation integrated technologies in smart-home and -city applications, while increased use of networked data and interconnected devices open the door to new security vulnerabilities. At the same time, we need next-generation technologists with the education and skill set to meet the challenges of tomorrow.
At Keysight, we are in a great position to support future technological advancements and deliver these breakthroughs. Our electronic measurement solutions accelerate customer innovations that can change lives, secure the world, and connect people across the globe. Whether it's enabling next-generation clean tech, wellness technologies, or helping ensure connected technologies and devices are safe and secure, we offer leading-edge electronic measurement solutions that enable the future of sustainable living with positive social impact.
The utilisation of accelerated and advanced testing technologies, artificial intelligence, virtual and augmented reality, automation, and the Internet of Things (IoT) are speeding delivery of life-saving medical equipment and new health treatments.
Looking forward, how do you see the evolution of CSR efforts in technology and in relation to COVID-19?
Before COVID-19, technological advancements were changing our world, and that has accelerated over the past several months. The evolution of technology supports many aspects of the CSR sphere. There are countless examples. Clean technology and the eMobility ecosystem are key to a more sustainable future. Communications infrastructure advancements such as 5G will continue to connect and improve the lives of people all over the world. Other technologies, such as IoT and virtual reality in healthcare applications, will support positive social impact. I am excited that Keysight is well-positioned to not only support this evolution but be a driving force in helping build a better planet.
Inclusion and diversity are also key to building a better planet. What is Keysight doing in this space?
Keysight is very focused on inclusion and diversity. As I looked at what Keysight should do to continue driving long-term value creation last year, I outline inclusion and diversity as one of my 2020 CEO priorities.
Keysight professes a set of values that are about respect for EVERY individual. We have no tolerance for any discrimination. Inclusion and diversity are interwoven into everything we do. We're currently focused on improving recruitment, hiring, developing, and growing our talent. Ultimately, we need more underrepresented groups in leadership and engineering roles for Keysight to realise its full potential.
Racial equality and social justice, especially for Black people, have been at the forefront lately. Is Keysight taking any action?
I am saddened and horrified by the police brutality and inequality that continues to occur, as well as where the US is on this axis. As an individual citizen and business leader, I can and want to do my part to make it better.
Keysight has committed to ten near-term actions to accelerate progress specifically for Black people that are in addition to our broader inclusion and diversity program. They include adding top engineering programs at historically Black colleges and universities to the academic institutions we recruit from, holding regular discussions with Keysight's management team and board of directors on the topic, making Juneteenth a paid company holiday in the US, and donating to the National Urban League.
As you begin planning for 2021 and beyond, what is top of mind for you?
While there is a great deal of uncertainty right now, realistically I think we will continue to be in the "new normal" created by COVID-19 for at least the first part of 2021. Nevertheless, demand for technology innovation will continue to accelerate. As people seek new ways to virtually work and connect with one another, the need for distributed bandwidth and new tools will intensify. We will also see 5G deployments become more widespread, laying the foundation for the digital economy of the future. While we are still in the midst of a global pandemic, I am optimistic we will see technology make the world better, and the companies that will thrive will be those that don't lose focus on corporate social responsibility or inclusion and diversity alongside their core contributions to innovation.