How ExCeL London is Preparing for Events in the 'New Normal'
UK Prime Minister Boris Johnson has announced that business events, conferences, exhibitions and events centres will be given the go-ahead to reopen on 1st October adhering to social distancing. To hear about how the UK events sector is preparing for this, we speak with Jeremy Rees, the CEO of ExCeL London – the largest and most versatile venue in London which welcomes over 4 million people from all over the world every year.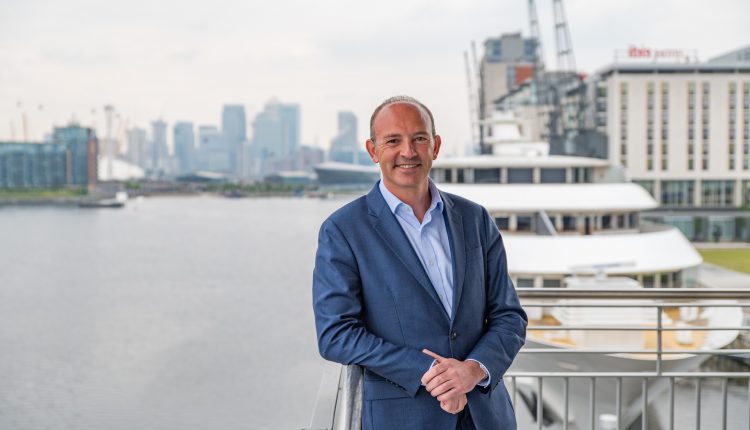 ExCeL London was turned into an emergency hospital for COVID-19 patients. Was this an obvious decision to make? Tell us about the whole process of setting the hospital up and treating patients there.
It has been a privilege to work with the NHS and its wonderful staff during this unprecedented crisis and we are extremely proud to have played a role.
In late March, I was asked if we would offer our entire facility to support the government and NHS as part of their response to the growing surge of COVID-19 patients. The plan was to transform our venue into the world's largest field hospital with a capacity of up to 4,000 beds. We immediately agreed and, with the full support of our owners ADNEC (Abu Dhabi National Exhibitions Company), the work began the following day.
Our engineers, security officers, cleaners, riggers, and traffic management team – more accustomed to hosting the world's leading events – worked alongside the NHS, the military, as well as event industry contractors, to transform ExCeL into NHS Nightingale London.
An incredible team of 360 people worked round the clock to install the first 500 beds, fully equipped with ventilators and oxygen. The build was completed in just 9 days, ahead of an official opening in the (virtual) presence of HRH The Prince of Wales, on 3rd April.
Our business depends upon us being able to change our environment rapidly from one event to the next but even by our standards, this was a remarkable achievement and something we are very proud to have been part of.
The vast majority of the venue (90%) has now been restored to its original state with the remaining space allocated for equipment and bed storage for the hibernated NHS Nightingale. The government is allowing business events and conferences to restart from the 1st October this year, under COVID Secure Safety Standards, so we are anticipating hosting dozens of world-class events from then on.
Are you on track to proceed with the events you have scheduled for the rest of the year?
Events tend to run on an annualised cycle so the vast majority of exhibitions across the UK have been cancelled or postponed until Q4 this year. Similar to many sectors, COVID-19 has had a devastating impact both economically and socially across the events sector.
In the UK alone 30,000 jobs are at immediate risk with 60% of the entire supply chain sadly not expecting to reopen again. However, the sector is generally very agile, packed with talent and globally recognised as world-leading, so once we are allowed to operate again, I would anticipate that every opportunity will be taken to deliver world-class experiences and value to visitors and exhibitors alike.
The UK events industry is one of Britain's biggest success stories. The sector is worth £70bn and is the 6th largest in the UK, employing over 700,000 people, across 25,000 businesses.
There can be no doubt that organised events, from every sector, will be vital in reigniting the economy. Our team has been working with the AEV (Association of Event Venues) and other key stakeholders to develop the All Secure Standard, an industry-wide benchmark to enable the safe return of organised events from the beginning of October.
In addition, we have developed our own set of principles to help guide customers through the event planning process, including new social distancing measures, cleaning regimes, processes for food and beverage, training, and personal hygiene.
What do you think will be the near-term impact of COVID-19 on the way events, exhibitions and conferences are held?
Look, I'd start by saying that I think the role of our industry has never been more important. The UK events industry is one of Britain's biggest success stories. The sector is worth £70bn and is the 6th largest in the UK, employing over 700,000 people, across 25,000 businesses.
The organised events we host are a huge catalyst for trade. They drive billions of pounds worth of import and export activity and actively support the government's Industrial Strategy. In previous years we would host 400 events, attracting 4 million visitors and 40,000 exhibiting companies. Events at ExCeL generate £4.5bn for the UK economy, support 37,600 jobs and drive 25% of London's inbound business tourists.
Events at ExCeL generate £4.5bn for the UK economy, support 37,600 jobs and drive 25% of London's inbound business tourists.
There will understandably be an impact due to COVID-19 and like countless other businesses, we will need to adapt but I believe we can do so successfully. We have 100,000m2 of flexible space that can be used to accommodate a wide variety of event formats, including options for wider aisles and measures to allow for social distancing. With multiple, distinct entrances, we can easily allow for staggered arrivals and with a wide central boulevard, we can ensure that we host our guests comfortably and safely.
In addition to thousands of square metres of space, we have a robust, world-leading technology infrastructure to support different types of events and meet new requirements.
We will continue to work with our clients to help them maximise the value of their events. Whether that means working with key industry associations or paving the way for new-look hybrid events.
Are you looking at a busier 2021 due to the cancellation of lots of events, exhibitions, and conferences this year?
We have to remain optimistic about the future. We cannot wait to work with our clients and get back to doing what we, as an industry, do best: acting as a catalyst for billions of pounds of import and export activity, resulting in investment, jobs, and economic growth.
Our customers want and need to run events. There is demand for future years and the desire to get back to business is overwhelmingly strong. We are seeing a steady level of enquiries, especially for future years, including 2021.
Formula E who were forced to cancel their 2020 race at ExCeL will be returning in 2021 and we cannot wait to host them. The Formula E Championship is the closest, most progressive category in motorsport. It brings electrifying racing to some of the world's most iconic cities, attracting internationally renowned automotive brands and an audience of 35 million worldwide.
Looking ahead, the biggest driver for us is that our customers want to run safe, successful, organised events. We will be supporting them in their aspirations to get back to business and begin their and our recovery as soon as possible.
What are your goals for the future of the venue, in a post-COVID-19 world?
As we look to the future, we are actively exploring how we can continue to diversify our business. This will include exciting, new projects that will raise the profile of ExCeL whilst supplementing our traditional revenue streams.
We have ambitious plans for growth beyond our core business. Our vision is to make ExCeL more of a destination, attracting new audiences, by working with globally recognised brands to deliver world-class entertainment and attractions.
When the Elizabeth line (Crossrail) opens this will be possible, as we will have the ability to transport thousands of visitors from central London within 15-minutes, right to our front door.
I also think sustainability and protecting the environment will continue to be key and to coin a phrase, we must ensure that we build back better.
At ExCeL, this is something that's already very close to our heart. Last year, new water fountains and a #NoPlastic campaign saw over 200,000 bottles of water refilled and reused. This year, we will switch 100% of our electricity supply to renewable sources, while our gas supply will be carbon offset, as we work towards helping the Mayor achieve his target of London being carbon neutral by 2050.
We will continue to drive initiatives that result in a positive environmental impact and deliver a meaningful legacy for our local community and the world around us.
What is it like to be a CEO in the exhibitions industry?
It's an amazing, world-class industry to work in – it's dynamic, creative and a leading catalyst for business tourism. In today's digital world, the one thing that technology can't replace is face-to-face interaction and I think recent events have shown that. Events provide the best opportunity to make new connections, forge meaningful relationships and to learn about new products and services. Whilst technology has been crucial during the virus, I think we are all looking forward to the day when we no longer have to meet over a laptop!
I am fortunate that my role allows me to work with so many great people, from the team at ExCeL and our owners ADNEC, to our partners and stakeholders across London, including the teams at the Royal Docks and London and Partners, and, of course, our hugely talented customers.
We work with such a variety of people to deliver a diverse range of events and experiences. I love walking through the venue and continuingly being surprised and excited by the events that I see. We go from welcoming over 100,000 Comic Con fans to 35,000 cardiologists, with over a million international visitors each and every year. It's a dynamic environment where every single day innovation, ideas and moments happen that can change people's lives.
The ongoing COVID-19 pandemic is an unparalleled global crisis that is affecting everyone, every country, and every industry – to an extent that none of us could have imagined. As business leaders, we find ourselves at a critical moment as we move to the recovery phase. Our focus has to be getting our businesses safely back on track, motivating our teams and taking strategic decisions that will create a sustainable future for us and our customers.