Double Fault? How to Fail and Still Move Forward
James Cluskey, business owner and tennis coach for Richard Branson, reflects on the lessons taught to him by renowned business leaders and the similarities he has found between business and sport.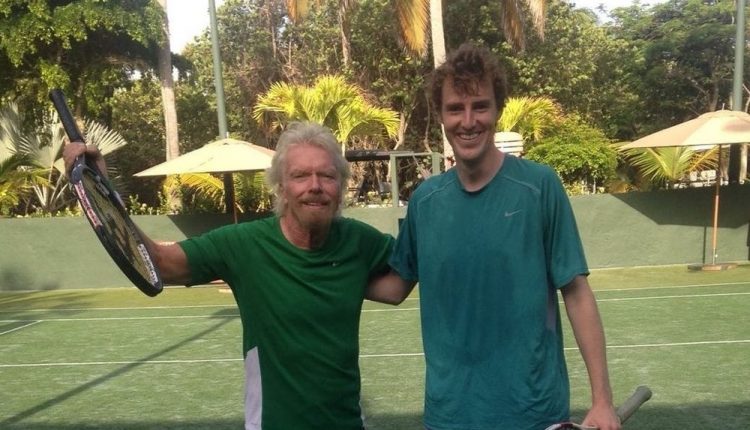 Tennis is a sport where, unless you're Roger Federer or another one of the big boys, you lose every week. The saying goes, "You need to have a short memory in tennis."
As a former professional player who was ranked as high as 145 in world, I won matches but I also used to lose a lot! On average a pro player plays 30 tournaments a year and on my good years I'd win six or seven titles. So, I know about losing but also about how to bounce back after a defeat!
Since retiring from tennis I've moved into the corporate world, starting HC Collective – a learning and development platform for employers to invest in their employees. I've found that business is not much different from tennis. There's good days and bad days, and you need to do everything in your power to stay positive and keep moving forward.
In 2015 I ended up at Sir Richard Branson's tennis event on Necker Island and subsequently have gone back to Necker to coach him on many occasions. Through the course of my time there I've spent significant amounts of time with very successful business people and always kept a journal of what I learned from Richard and others about how to be successful.
Be Positive
One of the things that strikes me about Richard is his positivity. When I meet him my first question is always about tennis: "Are you playing well?"
His answer is always "Better than ever." He has this ability to be optimistic and positive about everything and it's something that I've taken away. As hard as things can be, it always pays to look for the positive in every situation.
Be Present
On Necker, one observation I made was that Richard never has a phone with him. When we sit by the tennis court and have a cup of tea and chat, there was never a phone going off around him. For someone so busy that's pretty amazing, and I've taken that lesson on board so that when I'm with someone – either in a business or social setting – I make sure I'm present and giving them my full attention.
Go on Offense
I was lucky enough to spend time with the Sacca family through tennis. Chris is one of the most successful investors of all time, and one lesson from him that stayed with me was his views on email. When you are answering emails you are on someone else's to do list. You need to set aside pockets in the day for answering emails, but the rest of the time focus on the projects that will help you drive your business forward.
Debrief
One lesson from sport is to always debrief. Too many times we don't get the result we want and we move on without thinking about what went well and what can we do better. After every tennis match I'd sit down and write out the positives and negatives from the match and what can we learn from it. In my work with corporates I see that companies might set a sales target which they fail to hit. Instead of looking at the lessons from that, they just set a new target and keep going. It pays to stop, take a second and learn from your successes and failures.
Too many times we don't get the result we want and we move on without thinking about what went well and what can we do better.
Look After Yourself
With the current pandemic and the challenges we are all facing in business we need to look after our wellbeing. What makes you happy? I know that with Richard it's tennis. I did a stint of 30 days with him and he played tennis twice daily on 28 of those 30 days. He feels that when he's physically active he's more productive work-wise. Time playing tennis and kite surfing is non-negotiable for him. Make sure you look after yourself so that you can perform at your optimal best.
I've learnt a lot about resilience and bouncing back from my professional sporting career but also from the successful business people that I've been lucky enough to spend time with.
James Cluskey is an Ex-Davis Cup tennis pro, founder of personal development group High Calibre Collective and author of Advantage: Lessons from Sport and Business to Achieve Your Goals, published by Panoma Press.