Top 7 Luxury Tented Camps from Around the World
There is no better way to escape the rigours of city life and experience nature than by staying in a tent. Particularly if that tent brings you all the comfort and amenities of a luxury hotel.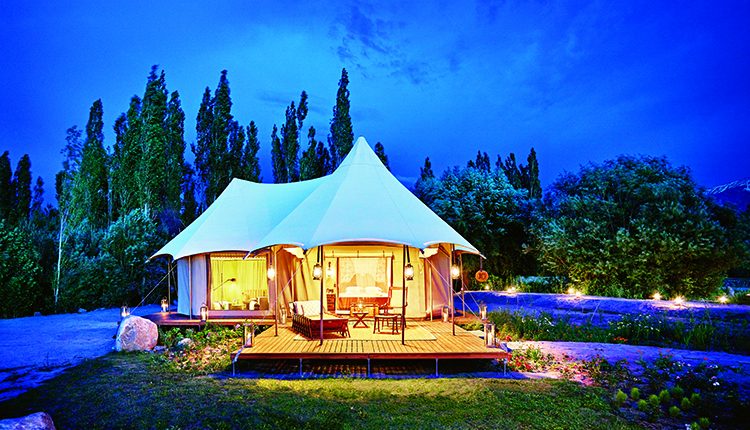 Luxury tented camps offer soft linens, deep soaking tubs, butler service and incredible food made fresh from local ingredients, alongside the chance to hear a giraffe munching on a leaf through the canvas of your tent or have a rare bird land on your roof. There's even Wifi!
Read on to discover a world where luxury and unique natural experiences go hand in hand.
Desert Nights Camp, Oman
Experience an authentic Bedouin-inspired night in spectacular the Wahiba Desert at Desert Nights Camp, Oman. Ideal for the more adventurous traveller, the dunes are home to incredible activities including camel rides and quad biking.
Here you will be captivated by stunning desert beauty whilst luxuriating in Bedouin-style tents that are air-conditioned and even come with an en-suite shower, stocked mini-fridge, tea and coffee making facilities and an outdoor sitting area that is perfect for a night-cap under the shining stars.
You will have the opportunity to connect to Oman through your taste buds and enjoy traditional Omani dishes prepared by the camp's master chef or a "Shuwu" – a traditional lamb barbeque – besides the fire.
Top tip: Take a jeep safari over the sloping dunes for a unique adrenaline-fuelled desert experience.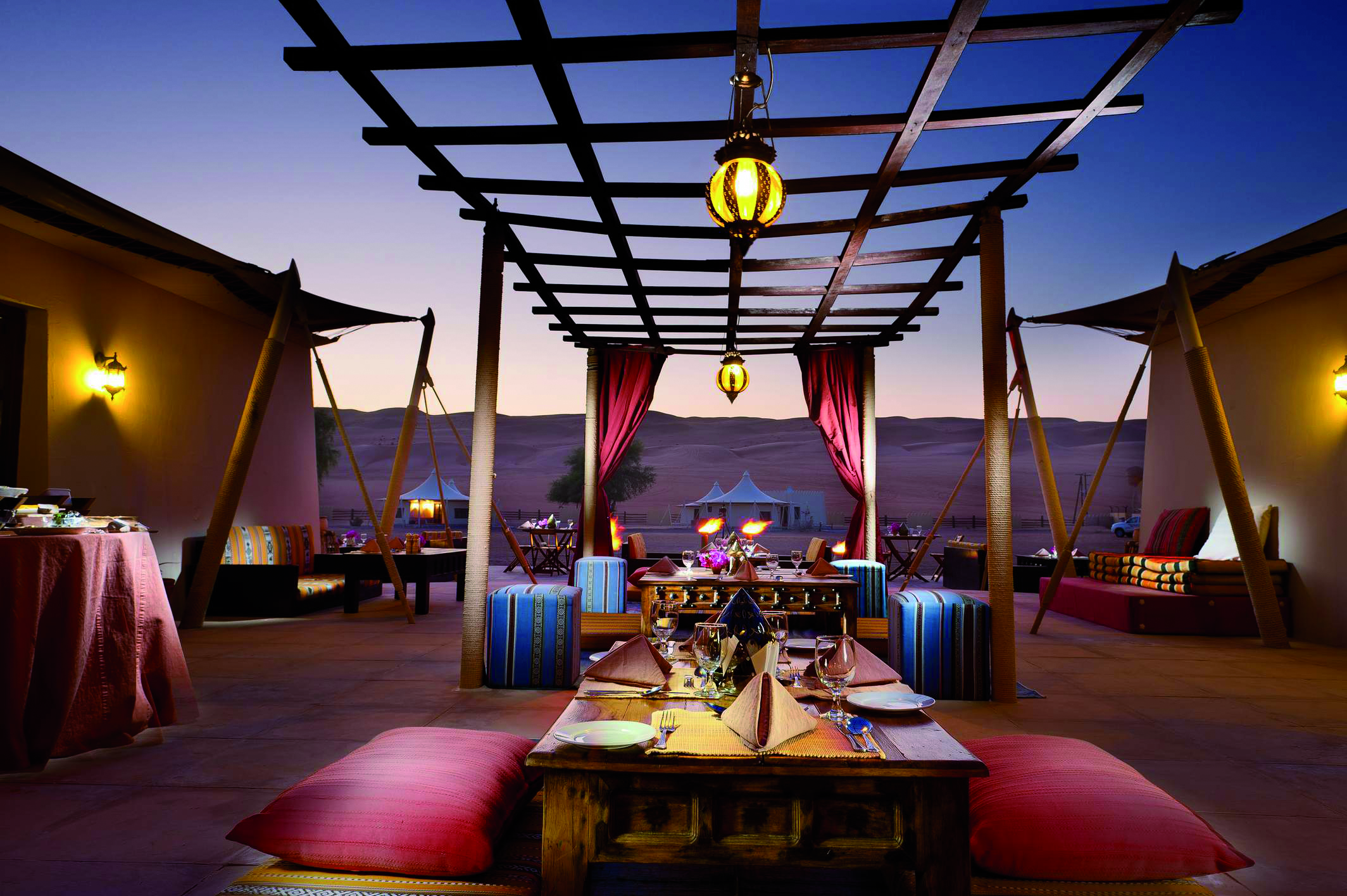 Four Seasons Tented Camp Golden Triangle, Thailand
At Four Seasons Tented Camp Golden Triangle you are dropped into the middle of the Golden Triangle, with spectacular hillside views of the verdant Burmese jungle, the Ruak River and the mountains of Laos.
By day, you might find yourself driving elephants through the tangled jungle, learning about Thai culture through cooking classes and traditional craft lessons, fishing in the teeming river, or simply relaxing and drinking in the sounds of the jungle from your private outdoor deck.
Then, by night, the camp is lit by a hundred torches that help you navigate between the Burma Bar, spa and restaurant. 15 luxurious tented accommodations featuring handcrafted furnishings are spaced out along the path, allowing for total privacy and complete comfort.
Top tip: Unwind on a magical 20-minute boat ride down the river whilst the Camp Host introduces you to the area.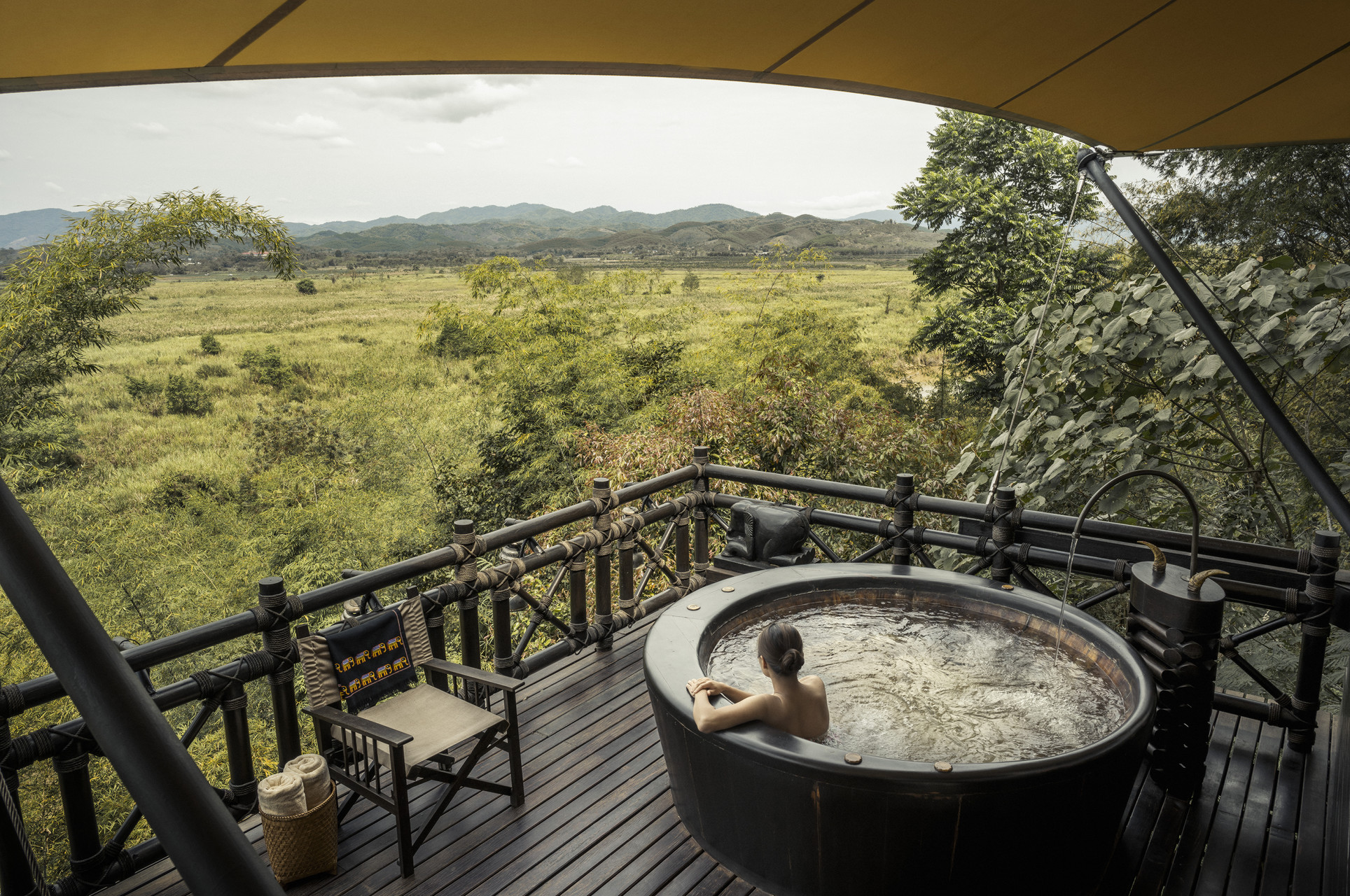 Longitude 131, Australia
If you're looking for a luxury tented camp that gets you closer to some of the world's most stunning natural landscapes, then Longitude 131 should be at the top of your list.
Located in the UNESCO World Heritage Listed Uluru-Kata Tjuta National Park, each of the 16 luxury tents offers incredible amenities and king-size beds that face out towards Ayres Rock – one of the world's largest monoliths.
There is so much you can do amongst this stunning and varied landscape that you won't be stuck for things to do. This includes a walking tour of Uluru's base to view cave paintings and learn about the history of the Mala people, a walk through the Walpa Gorge, and watching the sunset with champagne and canapes on the viewing deck.
Top tip: Enjoy a refreshing drink at The Dune Top. Located at the property's highest elevation, here you will find breathtaking 360-degree views.
Wild Coast Tented Lodge, Sri Lanka
With a dazzling location next to the Yala National Park, this is a sustainable safari lodge unlike any other, offering a variety of spectacular wildlife experiences. The lodge even harnesses solar power for heating and converts food waste into biogas.
As the camp isn't fenced, you can expect to see some indigenous wildlife wandering around the lodge and the dedicated staff can arrange game drives with expert guides, as well as cultural excursions to nearby ancient sites.
Luxury tents come in the form of Cocoon Suites that are scattered around an active watering hole and come with four-poster beds, tall ceilings and double-glazed windows for gazing out at the lush jungle surrounds.
Top tip: Don't miss out on treatments at Sanctuary Spa that feature products made with Ceylon tea and authentic Sri Lankan cinnamon.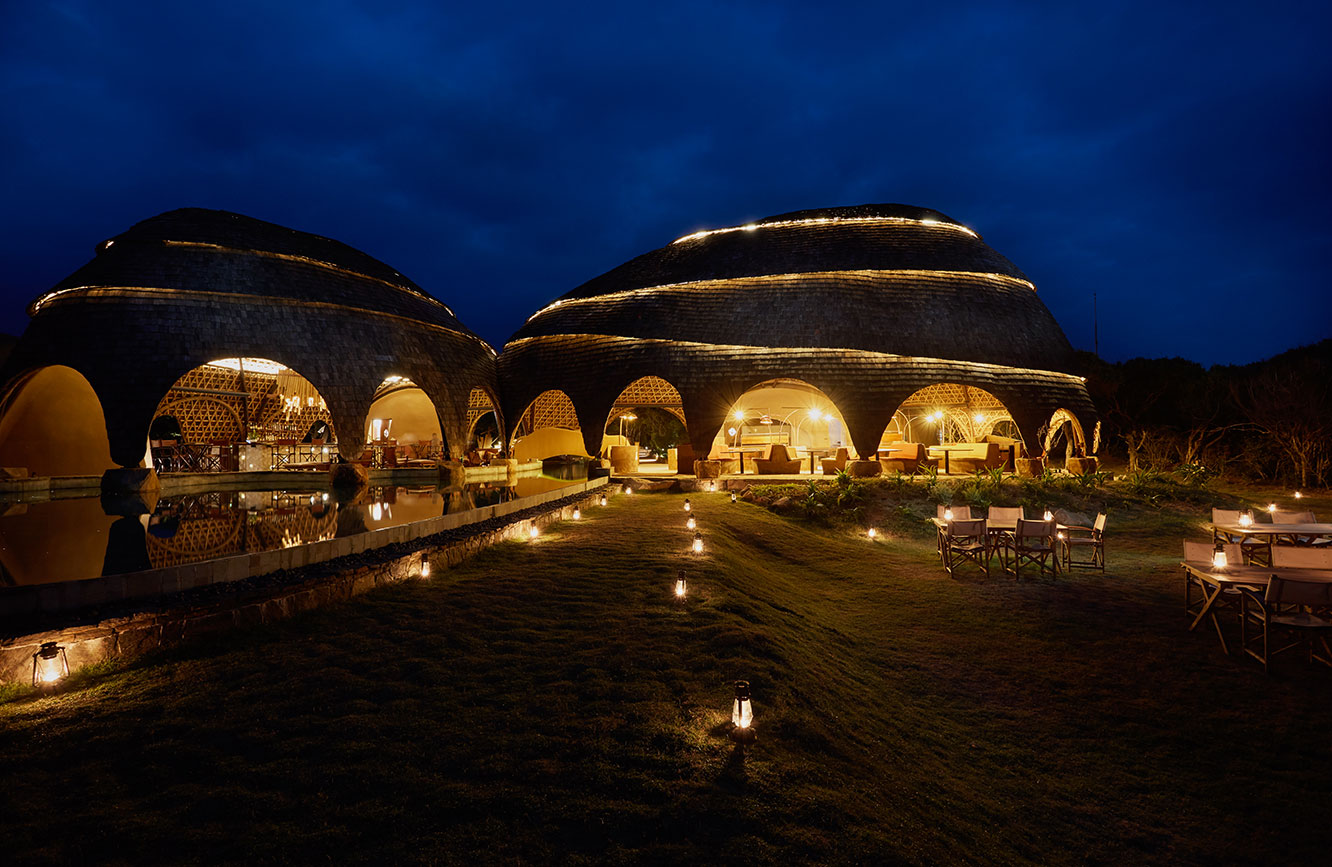 The Ultimate Travelling Camp, Chamba Camp, India
Surrounded by dramatic snow-capped mountains, luscious forests and sloping fields, The Ultimate Travelling Camp immerses you into the tranquillity, history and natural splendour of mystical Ladakh.
Its incredible location allows you to take part in some magnificent activities and experiences. You might watch the sunset over the old city of Leh, take a drive to the stunning Alchi Monastery or perhaps even join the monks for early morning prayer – an activity sure to make the hairs stand up on the back of your neck.
The splendid, individually designed accommodation comes with en-suite bathrooms, comfortable beds, private decks and even your own butler! Here you will find complete comfort amongst a stunning landscape.
Top tip: If you visit during the summer months you can pay a visit to Ladakh and take part in its colourful festivals.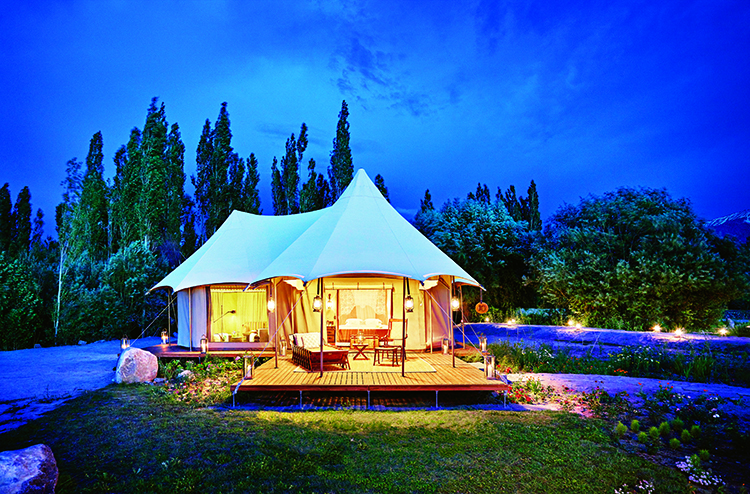 Camp Sarika at Amangiri, USA
Opening Spring 2020, the tented retreat of Camp Sarika promises an intimate, back-to-the-wild experience in the desert heart of Utah. Here you will experience true peace and seclusion and have the opportunity to connect to one of the most diverse landscapes on earth.
A part of the luxurious Amangiri resort and set within 600 acres of pristine landscape overlooking the Grand Staircase-Escalante Monument, Camp Sarika offers an unparalleled variety of excursions including hot air balloon flights, Navajo guided tours to slot canyons and kayaking on Lake Powell.
The camp's cluster of 10 canvas-topped pavilions, each with a private plunge pool, centres on a shared lounge, restaurant and pool area. This ensures that you are surrounded by luxurious, modern amenities and complete comfort.
Top tip: Make sure to explore the five national parks in the area and Navajo Nation Reservation for a rare look into the wilds of the Old West.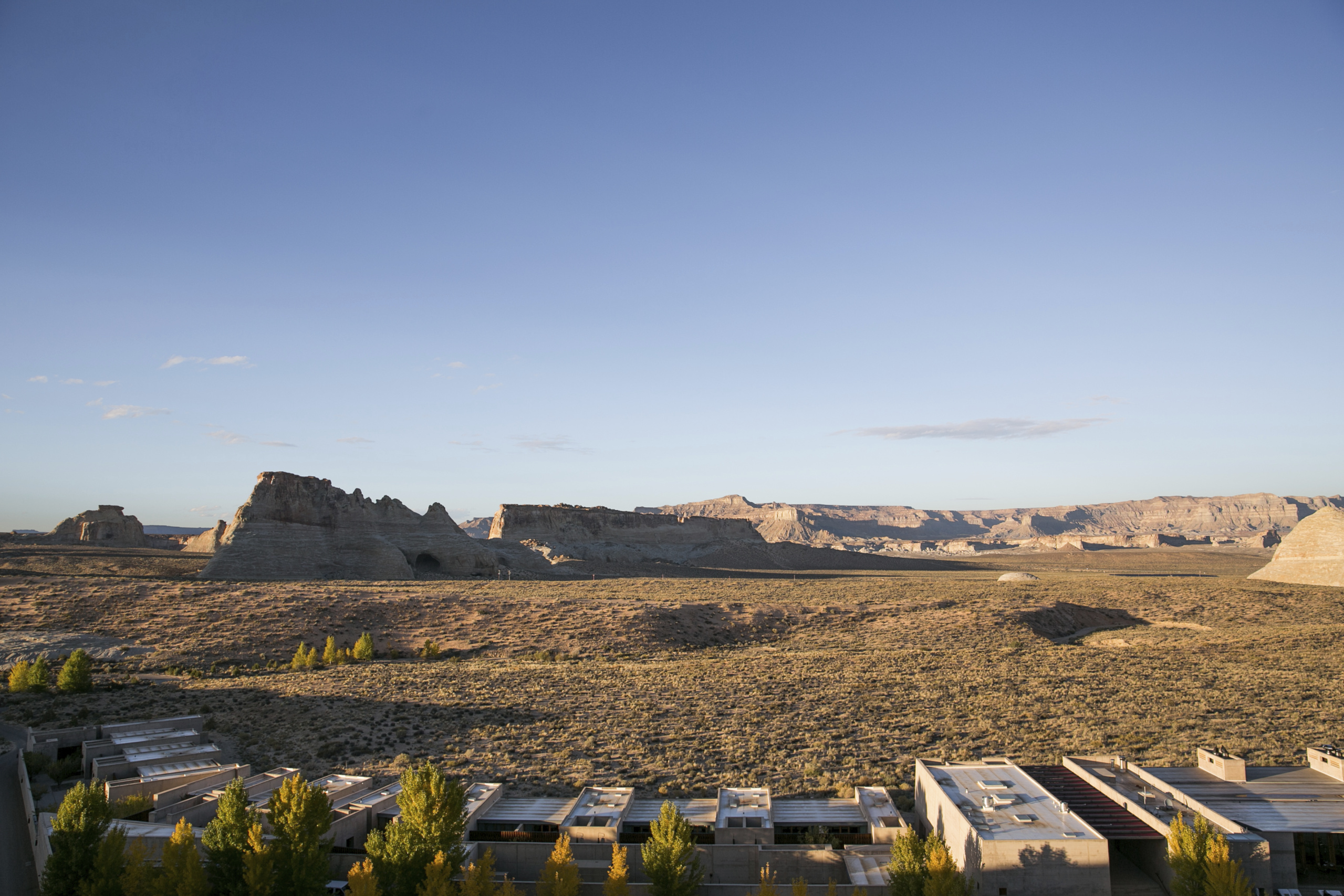 Belmond Eagle Island, Botswana
Recently rebuilt, each of the 12 luxurious tented rooms at Belmond Eagle Island offers contemporary amenities alongside delicate construction and design inspired by the beauty of the surrounding nature.
Shaded from the sun by a traditional thatch roof, your home away from home will fully immerse you in Botswana's landscape while providing you with your own plunge pool, indoor and outdoor shower, large viewing deck and air-conditioning.
The Okavango Delta is one of the world's largest inland waterways and is an oasis of life amongst the desert terrain. Staying here gives you a real taste of traditional Botswana, with authentic flavours at the Fish-Eagle Bar and horseback safaris over the Delta.
Top tip: A heli-tour of the delta is an awe-inspiring experience which gives you a sense of the scale of the natural expanse.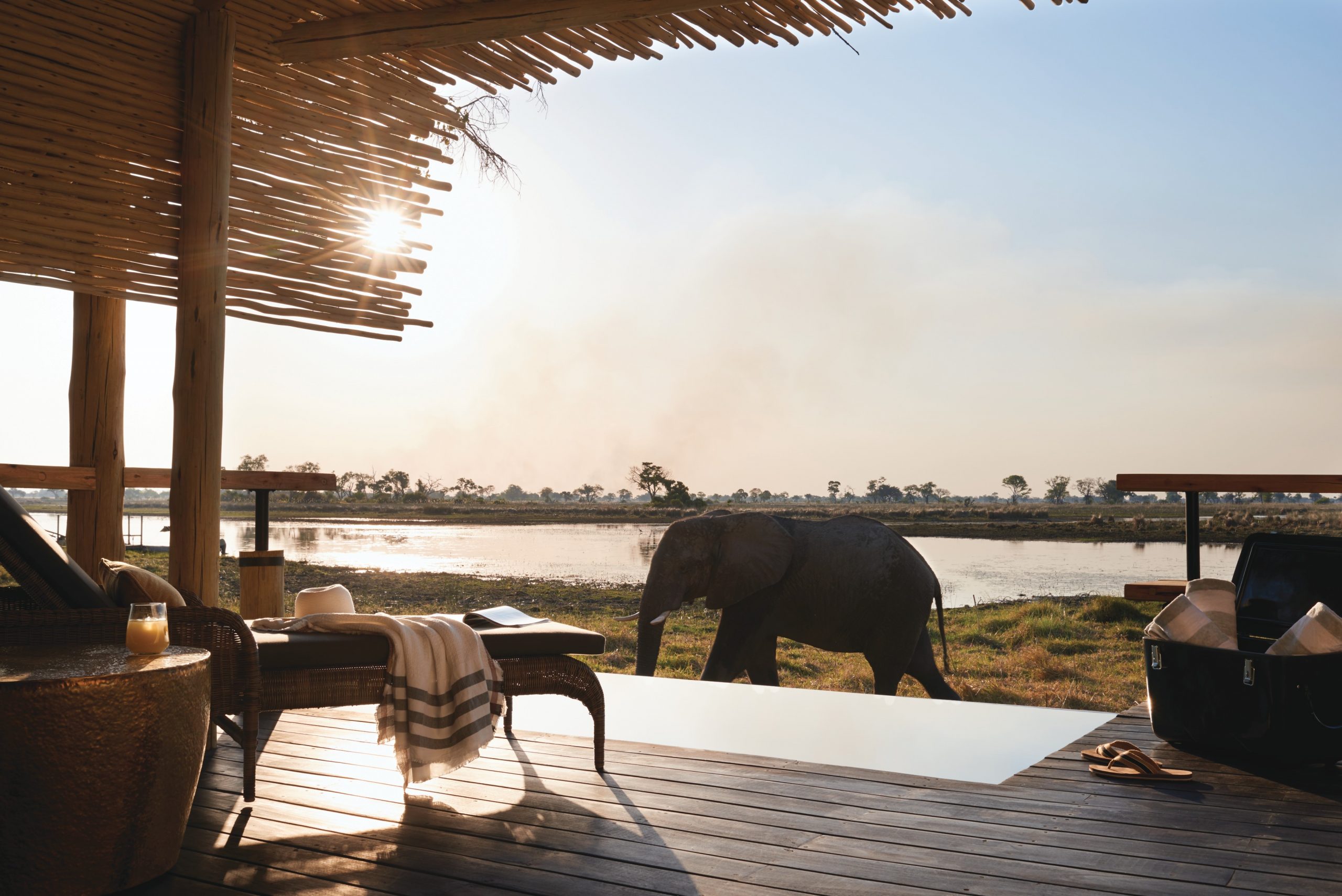 Want to know more about any of these incredible luxury tented camps? Call the Travel Specialists at Inspiring Travel Company for first-hand insight and to start crafting your next bespoke luxury tented camp holiday.